Yacon Syrup
When I was pregnant with twins they make you take a glucose test. But I was already having symptoms of gestational diabetes so my doctor had me test my levels at home. Sure enough I was right there on the fence and I had 2 options control my diet or take medications. I didn't want to take meds if I could control my diet at home. So I started researching food and sugar in relation to diabetes. I discovered that there were natural alternatives to sugar. Many artificial sugars have long rumored to have negative health impacts. I don't know if any of these are true but if I can be safe by using a natural product vs an artificial one than that is what I prefer.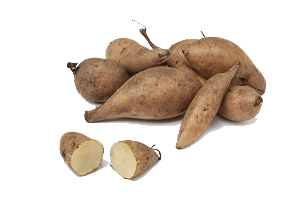 Yacon Root
I had never heard of Yacon until recently . What is Yacon Syrup? Yacon syrup comes from the Yacon plant that is grown in fields of Peru. The Yacon root resembles a sweet potato. Yacon (Smallanthus sonchifolius) syrup is low in both calories and the glyemic index scale. Because it contains high levels of inulin, a form of sugar not metabolized as fast as sugar, it can benefit diabetics.
Yacon Syrup in my Coffee
I used it daily in my coffee. I started out with a tiny teaspoon because I didn't want to over sweeten my coffee. I was surprised that it was mild compared to my expectations. It sort of resembles molasses in color but is not as thick. Because its a liquid I wasn't sure how strong it was going to be. It wasn't overpowering at all. It sweetened my coffee and I didn't notice any weird taste or aftertaste it was just sweeter.
Another thing I like about Yacon syrup is that it has prebiotics and probiotics which are important to digestive help. It is claimed that it helps promote good bowel function.
I was brainstorming on all the things I could make with this syrup. Put it on oatmeal, pancakes, dips and salad dressings. Replace honey on cornbread or honey in mustard honey dressing.I am also wondering if I can use this in homemade ice cream. They recommend a tablespoon of Yacon Syrup before every meal.
Overall I recommend Yacon Syrup as a replacement for sugar in products such as coffee, tea, or any other liquid drinks that you like to sweeten. I like that I don't notice a difference and there isn't taste to it.
Some Product Details:
100% pure Yacon syrup has shown to assist in weight management, increase fiber intake and promotes good bowel function.
Other benefits include: Lowers blood sugar. Prevents and controls hyperglycemia (over activity). Restores renal activity. Is a powerful Antioxidant.
High in prebiotics and probiotics, this syrup contains up to 50% of FOS (fructooligosacharides). It has been found that consumption of FOS does not increase blood glucose, and helps boost your bodies metabolism.
Naturally grown and sourced from the fields in Peru. Organic certified by our manufacturing specialists.
100% pure raw organic syrup formula with no added preservatives. Bottled and tested in a FDA certified GMP facility in the USA.
If you would like to find out more information or purchase Yacon Syrup click below.
#lifefoodyacon I received one or more of the products mentioned above for free using
Tomoson.com
. Regardless, I only recommend products or services I use personally and believe will be good for my readers.